Please join us:
Program for An Interfaith Meditation: Prayers for the Pandemic
January 17, 2021 2:00 pm
https://bit.ly/InterfaithMeditation Click here to register
Prologue :
Madeline Breen, OPA, Dominican Associate of Peace
Welcome:
Kathryn Ress, LISW-S Chair Akron Area Interfaith Council
Opening:
Rev. Nanette Pitt, First Congregational Church of Akron
Period of Lament of Loss:
Rabbi Michael Ross, Temple Beth Shalom, Hudson and Jewish Educator
for Hillel at Kent State University
Lament of Injustice:
Pastor Herman A. Matterson Jr., The House of the Lord
Jaudith Yepes Nunez Delegate of V National Encuentro of Hispanic/Latino Ministry.
Call for Interracial/Interfaith Work:
Pastor "Coach" Kemp Boyd, Love Akron
Rev. Dr. Roderick Pounds, Second Baptist Church of Akron
Minister Stephen Muhammad, Nation of Islam
Calming Meditation to Prepare for Work Ahead:
Shih Ying-Fa, CloudWater Zendo of Cleveland
Rebekah Benner, Terra Amma Grove
Healing:
Rabbi Elyssa Joy Austerklein, Beth El Congregation
Imam Abdulkareem Sekta, Islamic Society of Akron and Kent
Hope:
Rabbi Joshua Brown, Temple Israel
Benediction:
Rev. Kate Landis, Unitarian Universalist Church of Akron
"Prayer: A COVID 19 Song," Nimo Patel, Empty Hands Music
Please join us for a virtual event, "An Interfaith Meditation: Prayers for the Pandemic", Sunday, January 17, 2 pm.
Join faith leaders from many parts of Akron as they share meditations and prayers to lament, heal, and find hope in these difficult times. Click here to register https://bit.ly/InterfaithMeditation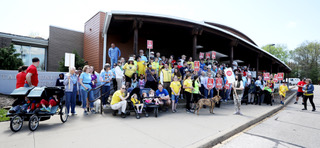 Photo of Annual Hunger Walk (2018); Raised $34,000 for Akron Area Food Bank in 2020
MISSION
The Akron Area Interfaith Council (AAIC) exists to initiate, coordinate and enable effective interfaith responses to the social, moral, ethical and cultural issues of our community and to promote freedom of religion, equality and understanding.
VISION
We envision a strong network of faith communities that collaborate to make our city a haven for all.
HISTORY
The AAIC was founded in 1980, when Akron area faith leaders collaborated toward better understanding. From the start, the AAIC focused on issues of peace, finding common denominators among different faith traditions. Members do not proselytize, convert, or emphasize one view over another.
CURRENT MEMBERSHIP INCLUDES
AKRON-CANTON REGIONAL FOODBANK
AKRON FIRST SEVENTH-DAY ADVENTIST CHURCH
BAHA'I FAITH
BATH UNITED CHURCH OF CHRIST
BETH EL CONGREGATION
CHURCH OF OUR SAVIOR
DOMINICAN SISTERS OF PEACE
FAITH LUTHERAN, FAIRLAWN
FIRST CONGREGATIONAL CHURCH OF AKRON
GLOBAL TIES AKRON
HINDU COMMUNITY
ISLAMIC SOCIETY OF AKRON AND KENT
JEWISH COMMUNITY BOARD OF AKRON
NEW COVENANT COMMUNITY CHURCH
ST. HILARY PARISH
TEMPLE ISRAEL
THE CHURCH OF JESUS CHRIST OF LATTER-DAY SAINTS
UNITARIAN UNIVERSALIST CHURCH OF AKRON
UNITY CHAPEL OF LIGHT
WALSH JESUIT HIGH SCHOOL
WISH – WOMEN'S INTERFAITH SPIRITUAL HERITAGE
ORGANIZATIONAL STRUCTURE
The organizational structure of the AAIC includes a nominated and council approved executive board consisting of a President, Vice-President, Secretary and Treasurer. Standing committees exists in the areas of Education, Finance, Public Relations, Social Justice and Spiritual Life. These committees work to plan and conduct activities and programs that enrich interfaith interaction, enhance the mission of the AAIC, and empower AAIC members to magnify interfaith work in their respective spheres of influence.
Current Council Executive Board
Kathy Ress, President
akronaaic@gmail.com
Alan Fortnoff, Vice President
afortnoff@gmail.com
Constance Dubick, Secretary
Noor Najjar, Co-Treasurer
najjarnr@aol.com
Judy DiNardo, Co-Treasurer
tdinardo@att.net
BYLAWS
Click here to read the AAIC Bylaws